DRAGON BALL FighterZ Steam Key GLOBAL



Product description
Dragon Ball: FighterZ's gameplay
took inspiration from many other fighting games. The game includes control scheme and team mechanic from series such as Marvel vs. Capcom. Players choose three characters from the roster of 24, to form their team. Chosen characters can be switched during the fight at any moment or used as a support, here called "Assist move". Calling in support allows a simultaneous attack from all characters on the player's team. Match is won when all the characters on one team are defeated.
The game includes many unique moves known from the series, such as Goku's Kamehameha, Vegeta's Final Flash or Piccolo's Special Beam Cannon. Using these requires charging the Ki bar, which can be done manually. There are seven Ki bars in total, and the type of attack depends on how many of them the player has charged. Certain Ki attacks, when deployed at the enemy with little health will initiate the so-called Destructive Finish, which will cause visible damage to the stage.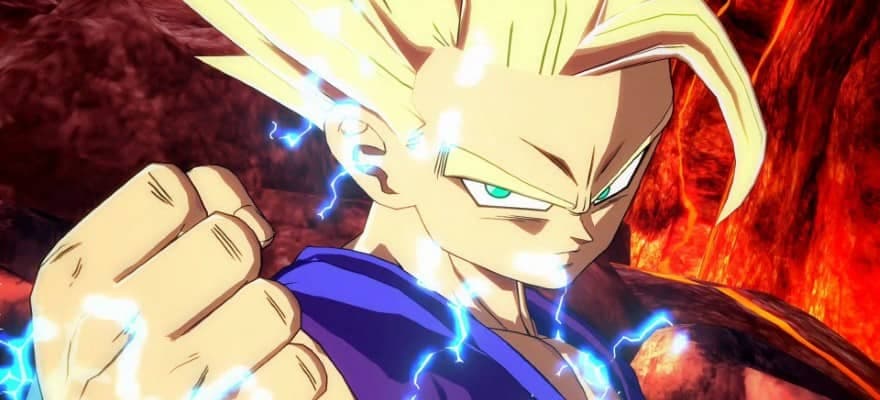 "Come on Shenron" is a mechanic that allows collecting dragon balls by performing specific combos. When seven of these are collected, Shenron – wish-granting dragon – appears, and rewards player with strength increase, reviving defeated team member, health recovery or regenerating health for the rest of the match.
Another feature of Dragon Ball: FighterZ is the "Dramatic Finishes". During matches between specific characters and on specific stages, when certain conditions are met, a special finishing cutscenes trigger, which are related to the events of the Dragon Ball series. These include climactic endings of such fights like the one between Goku and Frieza on Namek or Kamehameha struggle between Gohan and Cell.
Dragon Ball: FighterZ for PC
includes a multiplayer mode, with matchmaking done in the hub, resembling popular Dragon Ball location of Kami's Lookout. In the hub, players are represented by character avatars of their choosing. Players are ranked on the basis of won matches.
Story and Characters
Dragon Ball: FighterZ
tells an original story set between the events of the Future Trunks Saga and Universe Survival Saga. It involves the Z-Fighters encountering a powerful new enemy, Android 21, former Red Ribbon Army scientist who turned herself into android. She struggles to control her evil, monstrous side, who hungers for power. Once awakened, Android 21 uses Dragon Balls to resurrect Z-Warriors' strongest foes, including Cell and Frieza, and seal the powers of Goku and his friends. To prevent further damage caused by her evil counterpart, Android 21, with the help of Android 16, create a soul linking system which binds "the soul" (player) to the body of a Z-Warrior, giving them strength.
The story mode is divided into three arcs, each focusing on a different group of characters. In Super Warrior arc, the player controls the body of Son Goku for the most part and together with his friends they race to stop 21's rampage. In Enemy Warrior arc, player possesses Frieza, who recruits other DBZ villains to stop Android 21.
The character roster includes
over 20 characters
from Dragon Ball Z and Super series: Goku (Super Saiyan and SSGSS form), Vegeta (Super Saiyan and SSGSS form), Teen Gohan (Super Saiyan 2 form), Adult Gohan (Ultimate form), Gotenks (Super Saiyan 3 form), Piccolo, Krillin, Yamcha, Tenshinhan, Trunks (Super Saiyan form), Beerus, Majin Buu, Frieza, Perfect Cell, Nappa, Captain Ginyu, Kid Buu, Hit and Androids 16, 18, 21
Receptions in the gaming community
The game received universal acclaim from critics and gamers alike. Players praised complex yet approachable fighting mechanics, stunning visuals, sound design and music in the game. DBFZ won several awards for best fighting game including Game Critics' Awards and The Game Awards as well as Fan Favorite Fighting Game at Gamers' Choice Awards. Due to its mechanics Dragon Ball: FighterZ quickly found its way to e-sports, becoming one of its most popular games.
Key features
Fast paced, easy to grasp but hard to master. You are going to need many training sessions to become good fighter. So, are you a Saiyan warrior, born to win or maybe you are just like Yamcha, always beaten by your foes?
choose from over twenty playable characters known from the Dragon Ball series
combine your favorites in 3-on-3 battles
spectacular visuals blurring the line between game and anime
captivating story mode with brand new character designed by Akira Toriyama
multiplayer features, such as the interactive lobby, ranked matches and others
Warning!
This product is region locked and
CAN NOT
be activated and played in the following countries:
Japan, India, Pakistan.
Release date: 2018-01-26
This content was copied from
https://www.g2a.com/dragon-ball-fighterz-steam-key-global-i10000084216007
. It is protected by copyright, all rights reserved. If you want to use it, you are obligated to leave the link to the original source.